Osteotomy Osteotomy of the knee is a method used to realign the angle at which the bones forming the joint meet. It is used as an alternative treatment to knee replacement in younger and active patients with limited arthritis. The goal of the surgery is to shift the body weight onto the better half of the joint where the cartilage is still healthy thereby relieving pain.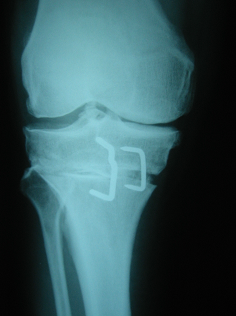 Partial knee Replacement This is also called unicompartmental or unicondylar knee replacement, as only one part of the knee which is the affected side is replaced with theartificial knee.
Advantage of this procedure is that the incision is smaller with less blood loss. There is more natural function at the joint as one half of the knee is preserved. Disadvantage of this procedure is that it can be performed in patients with limited arthritis only and in those who are not obese and who do not have inflammatory arthropathy. It can not be done on people who do heavy work.
| | |
| --- | --- |
| Unicondylar knee replacement with fixed bearing | unicondylar knee replacement with mobile bearing |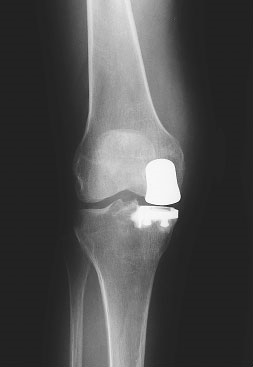 Total Knee Replacement In this procedure the diseased knee joint is replaced with an artificial implant. The lower end of the femur bone is removed and replaced with a metal shell. The end of the tibia, is also removed and replaced with a channeled plastic piece with a metal stem. A plastic may also be replaced under the surface of knee-cap.
Revision Knee Replacement The artificial knee implanted lasts for 10 to 15 years depending on the activity level of the patient. After this time the implants may start to loosen and patients complain of pain in the joint. The artificial knee will have to be replaced with new joints. This is surgically more demanding procedure.